Hairspray Live! | Branding, Promotions & Main Title
Brand & Art Direction, Concept Development & Design
NBC presented a live broadcast of Hairspray Live! on December 7, 2016.  Like the previous live musical events that NBC has pioneered, Hairspray Live! featured an All-Star cast in Ariana Grande, Jennifer Hudson, Harvey Fierstein, Martin Short, Kristin Chenoweth, Derek Hough, Dove Cameron, Garrett Clayton and introduced Maddie Baillio as Tracy Turnblad.

Taking place in the early 1960's, Hairspray does a tremendous job in transporting us to a simpler and much more innocent time.  It tells the story of teenage love while also being able to tackle difficult subject matter that is all too relevant to today's America.  It artfully strives to bring about change, foster inclusion and offer hope in taking a stand for what is right. 

All of that is accomplished under the fun and colorful veneer of the 1960's.  From the beginning, we set out to showcase the bright, energetic colors as well as the sparkles and glitter that immediately set the tone for the show.  We aimed to communicate the brightest points of the era while keeping it relevant to today.   
We had the honor to work with amazing talent, both in front of the camera and behind to develop a cross platform brand that created a fun and energetic brand that set the tone leading into the live show.   From the On-Air spots, OOH, and digital, to the Countdown Show and the Live Show Title, we worked to create and truly branded package.     
Creative Direction, Countdown Show EP & Dir.: Dean McFlicker
Branding Direction, Art Direction, Concept Development, & Design: Grant Okita
Director of Photography (Multiple Shoots): Peter Selesnick, David Waterston, Chuck Ozeas, James Belkin
Director of Production: Kari St. Clair
Lead Artist, 2D & 3D Animation, & Compositing: Brian Williams
Technical Direction, VFX, & Compositing: Tim Norman
Design, 2D & 3D Animation, & Compositing: Ryan Levitus
Design & Animation: Seungmin Roh
2D Animation: Todd LeValley
2D Animation: Gary Reisman
This project was produced at NBCUniversal.
Design Process & Breakdown
When we began referencing the 1960's, the use of bright colors and sparkles immediately jumped out at us.  The color palette and textures evoked a carefree and idyllic view of the cultural zeitgeist.  The namesake hairspray naturally took on a magical, dreamy feel when we portrayed it with the glittery sparkles.  Combined with the wonderfully, catchy music and the story arcs of teenage love and youthful, self awakening, we set out to create imagery that conveyed a positive, fun and energetic event. 
Initial Concept Development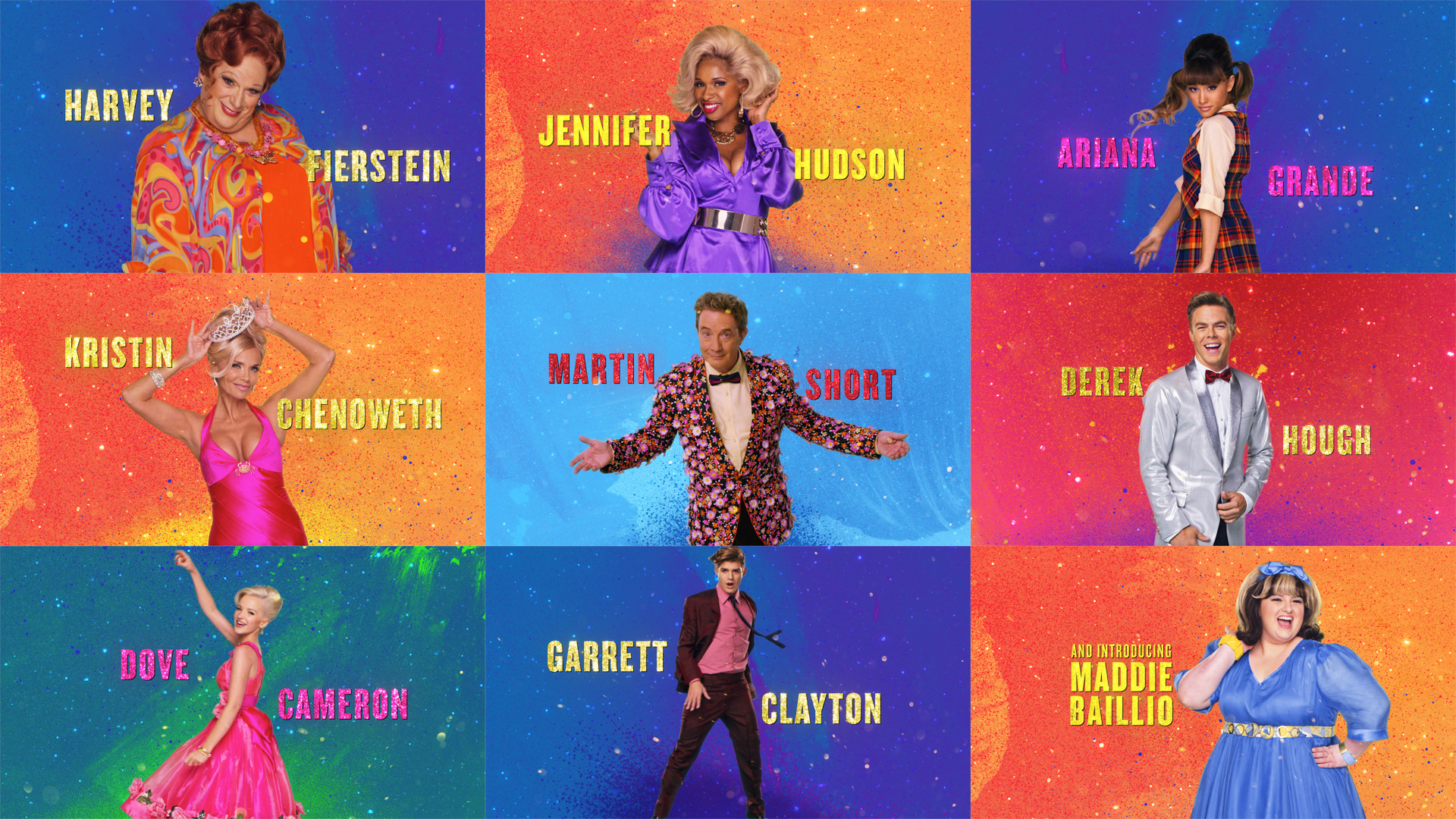 The snipes played over shows on the bottom of the screen to feature our talent.  We developed 3 different snipes to appeal to different demographics.​​​​​​​
The greensheets played during NFL football games on NBC and allowed the color commentator to speak on the show.​​​​​​​
_________________________________________________________________
OOH Marketing - WTC/Fulton, Marriott, Sony
Design & Animation
We created a branded package that covered the entire World Trade Center / Fulton metro station and promenade. 
With nearly 100 screens that worked in synchronized fashion to share the brand message.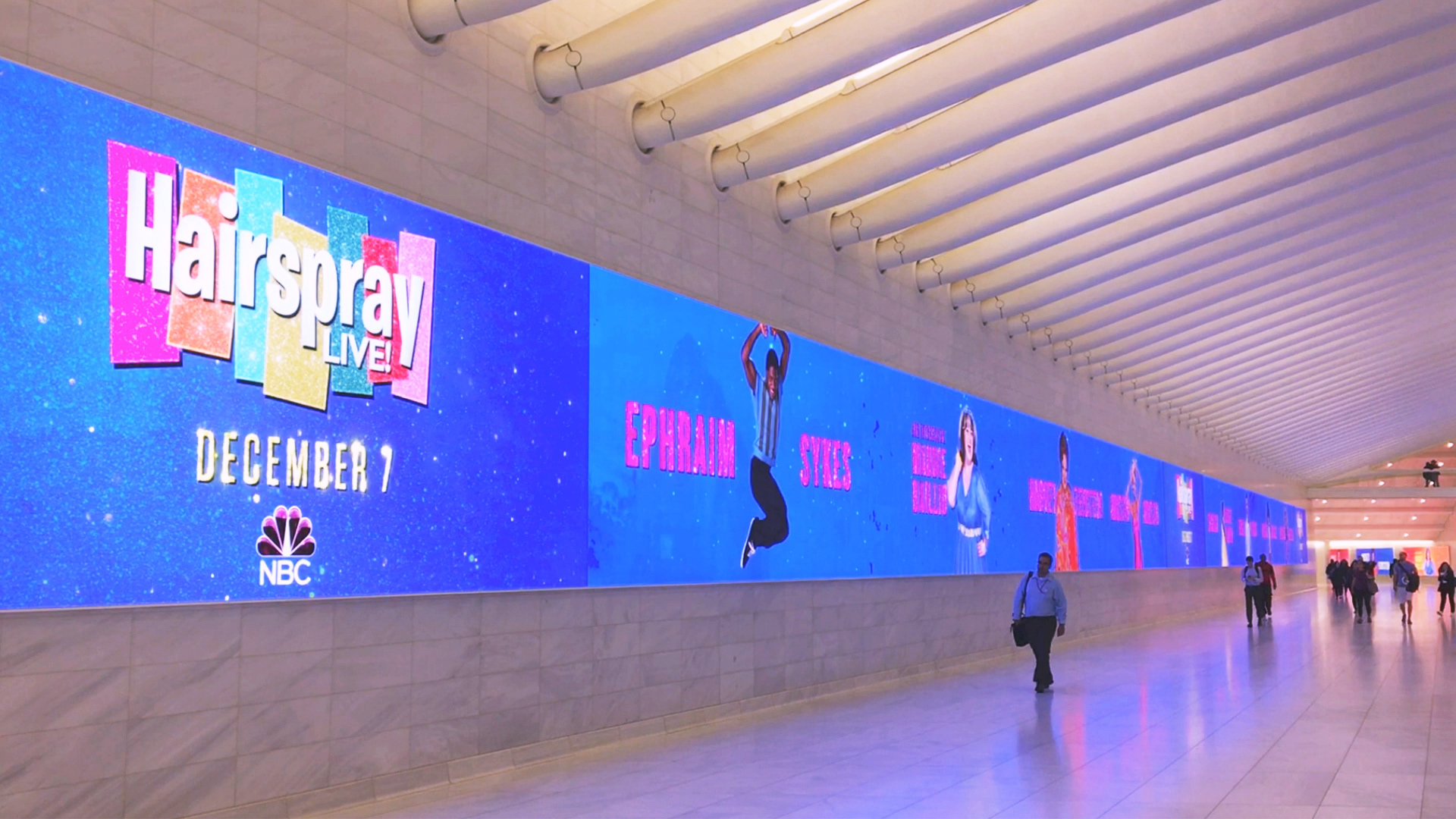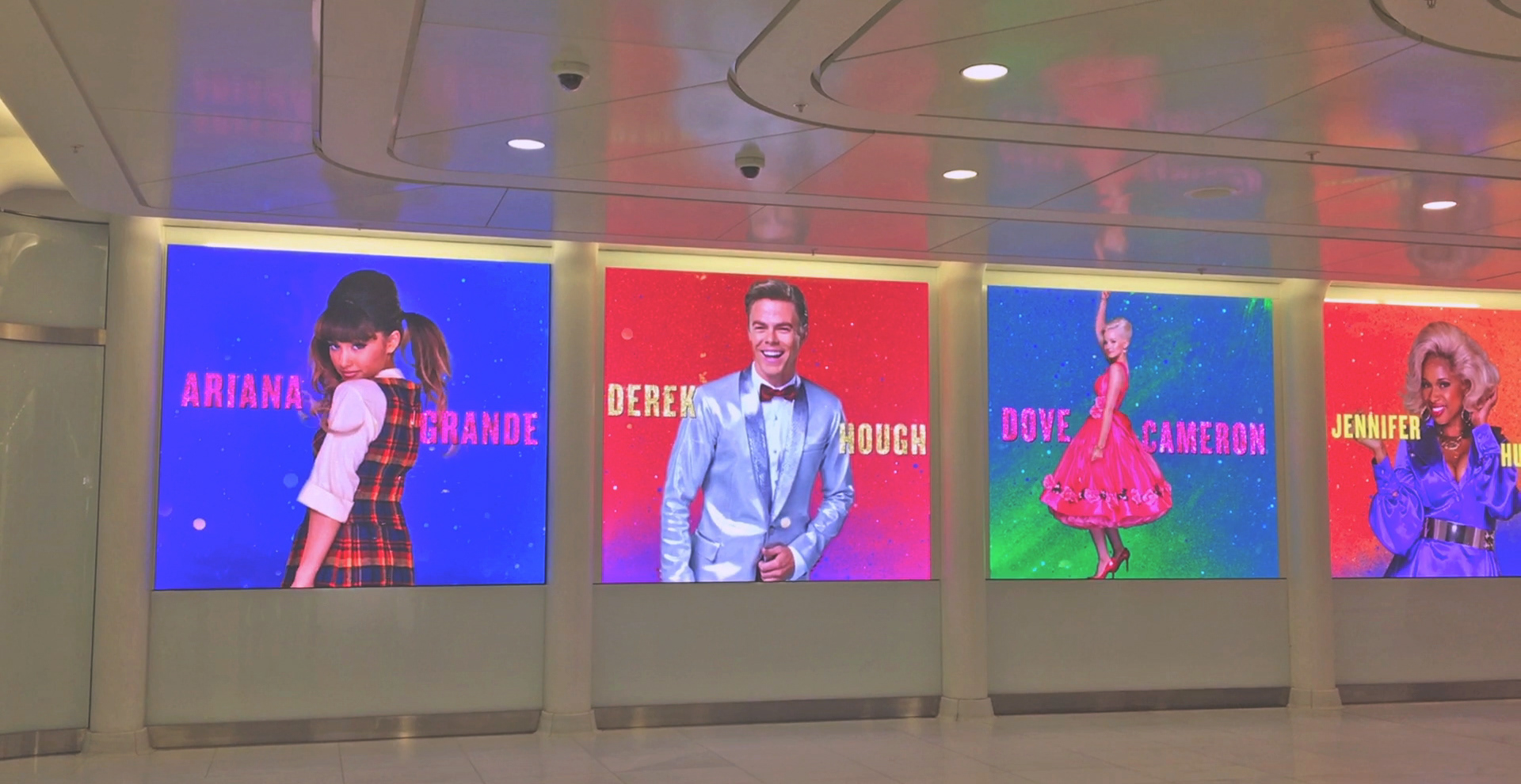 __________________________________________________________________

Countdown To Hairspray Live! - Show Package
Concept Development, Design & Animation
Working with the Executive Producer and Director, Dean McFlicker, we created a branded package that tied into the established brand of the live show while still giving itself its own identity.  The show graphics consisted of an Open, beautiful, organic hairspray transitions and sparkling lower thirds and IDs.